Post by azrur on Mar 15, 2014 8:37:46 GMT -5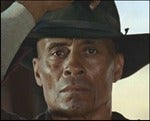 Walker decries the "Afrocentrists" who make "historical claims on the basis
of identity or color." Shocking! So let us ask: WHO pioneered just such a methodology
of making "historical claims on th basis of identity or color?" SPace aliens?
Certainly, not virtuous white people who are paragons of "reason" and "science.."
And the "Afrocentrists" way back in the day cited plenty of scientific evidence
based on the knowledge of that era. Diop for example offered over 6 lines of evidence
on the African character of ancient Egyptians including blood group gene data and skeletal data.
Van Sertima in his book: "Egypt Child of Africa" offers even more detail.
And I can't recall a lot of black students back in the day- the early/mid 1990s when
Afrocentrism was a "hot topic"- (when BErnal and Lefkowitz were all over
the airwaves and magazine articles)- falling down to worship at the
feet of Van Sertima's "Black Columbus" -- a book thing written in the 1970s.
In fact, the black students I remember, while giving Van Sertima a
respectful hearing were less than convinced, chiefly because they saw
there was a lot of heavy lifting to do in overcoming the weight of data
known at that time on the peopling of the Americas. They were willing to
treat it as a theory that needed further data. They were open to Van Sertima,
not worshipful, nor did they merely accept what he said. Van Sertima's theory
has never had the massive influence claimed for it by partisans or detractors alike.
Influence yes. Massive influence? Dubious.
Van Sertima himself is careful to qualify that he is making the case for
a theory of pre-Columbian contact between Africans and Native Americans,
and nothing in that theory is meant to cast any doubt on Native American genius
or originality. See pages see pages 149, and 256. HeIn subsequent writings he again
dismisses any notion of African inspiration saying that there was African INFLUENCE,
and that was NOT a catalyst for the rise of civilization in the Americas. He notes the
speculative parts of his thesis, particularly scenario on when African expeditions sailed
for the Americas- whether the alleged first wave from Nubia, or the second wave centuries
later from Mali. ts a thesis of contact. Anyone reading this book carefully can see he is no messiah
pushing a 'black Colombian' gospel. He himself notes certain limitations in the thesis,
but he also shows such contact is technically quite possible, and Thor Hyerdahl
proved it on a practical sense. The presence of African-origin plants such as the bottle gourd
(Lagenaria siceraria) or of African genes in New World cotton (Gossypium hirsutum) shows that there
was some contact between the Old World and the New. Parts of what van Sertima says makes
sense. Its the 2-wave arrival claim- Nubia first, then Mali that is the crux of the issue.
And the black students I knew were usually quite sensitive to what Native Americans
had to say, and assorted campus activists had to speak carefully because of this issue.
None of this is any secret. I was there, first hand, and I saw the open but measured
reaction to Van Sertima on this point among many black students. They were not rushing
out to preach any new "black Colombian" gospel, or that the natives were tutored by incoming
Africans. Claims that Van Sertima or "afrocentrists" claim this are patently false.
Given that there are tens of thousands of black college students- sure, somewhere,
someplace SOME may have accepted Van Sertima uncritically just as SOME white
students accept racist "biodiversity" claims uncritically, but I sure didn't
see any wave of "messianic" black folk jumping on the 'Black Columbus' bandwagon.
Where are these mysterious black hordes yearning for "self esteem" via Van Sertima?
And who says they are "representative" of anything larger than individual opinion?
Such claims by Walker, LEfkowitz etc are just another set of bogus strawmen.
Walker cites an article in The Black Collegian in the 1980s that reported favorably
on Van Sertima's research But that article was in 1981, 20 YEARS BEFORE. Yet Walker
tries to insinuate that today's black students or at least those circa 2001 are/were going
around beating some sort of "Black Columbus" drum, as if this theory had such vast
influence that black college students or black folk couldn't critically assess it.
Its yet another example of the nonsensical strawman approach Walker uses.
And "Afrocentrists" never asserted that the "Americas were vacant space"
as claimed by Walker. This is complete nonsense that appears nowhere in
Van Sertima's book. What "vacant space"? One wonders if "critic" Walker
even read Van Sertima's book. WHat a load of BS...
well you can post your critiques of some jew lady research and a picture of bull feces but you are missing the point
i have seen you in your other times be a critic of the eurocentricism the blacks needed a white or just nonblack influence to help them out all of that so how is this any different? i am not saying it is wrong or stupid like that book man says but it is the same as the eurocentricism you do not like so much saying that african are the originator of the civilizations of in meso america is saying that is was vacant space that they need the outside influence from a more "superiors" race without them it would be no pyramids or civilizations if you want to say that go ahead but why hold yourself up to this double standard?