Post by jew85em on Apr 26, 2019 20:43:25 GMT -5
African system, that existed before Egyptian Hieroglyphs
by: Akan Takruri
To purchase any of my books visit
www.amazon.com/s?i=stripbooks&rh=p_27%3AAkan+Takruri&s=relevancerank&text=Akan+Takruri&ref=dp_byline_sr_book_1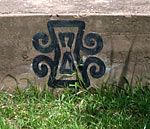 I had known of Hitler stealing ancient African symbols and calling them Swastikas. The story on that is that Ethiopians used those symbols, and you can even still find them today pictured on Orthodox Ethiopian Churches. Ethiopians migrated out of Africa around 11,000bc. They migrated to India where you find those same symbols, then the Aryan people developed, due to living in the higher elevation regions closer to The Himalaya Mountains. These are just light skin, recessive once Africans. They then migrated outside the Middle East.
Also around 10,000bc you had an Earlier migration of Ethiopians they migrated to areas around the Caucus mountains, they mixed in with Hominids, Neanderthal and Cro-Magnon. Aryans then migrated to these areas and mixed in with the already mixed population. Hitler did his research, and dubbed Caucasian origins with the Aryan people. He then stole their religious symbol, and used it for pure evil.
Now going back to Africa. That same symbol seems to actually be one of many symbols that have many meanings. These symbols could quit possibly be a form of communication that existed long before Egyptian Hieroglyphs. They are called Adinkras , in the Akan Tribe culture. These same symbols I have found pictured on the back of a boy from The Congo. Tracing back the people of West and East Africa, you learn that they all migrated out from the Congo, and developed in the Congo 30,000 years ago. With Ethiopians migrating to Ethiopia around 25,000bc, and West Africans to West Africa, around 4000bc. So prior to 30,000bc West and East Africans were the same genetic group. At this point in time is where the culture would've developed, then again from 25,000bc-11,000bc during a time when the cultures all mixed, due to many African tribes taking refuge in the highlands of Ethiopia, to survive the raised water levels on land due to the Ice sheets melting in Europe during the last Ice Age.
Join the facebook group
www.facebook.com/groups/1718074238439193/?ref=bookmarks
Subscribe to the youtube channel
www.youtube.com/channel/UCdAfVOjwsS55o81cScXrj3A