Post by truthcentric on Apr 8, 2010 19:32:00 GMT -5
I used to think that ancient Mesopotamian peoples such as the Sumerians, Akkadians, and Amorites were all olive-skinned like Iraqis living today, but now I am convinced that, at least in the beginning, they were black people.
First, we have evidence from Persian art of black people living in areas adjacent to Mesopotamia, namely the Elamites. Below, a photograph of a Persian depiction of an Elamite: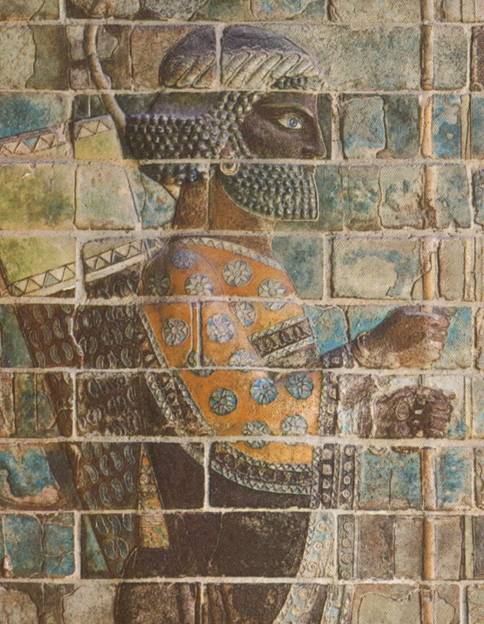 Since these Elamites lived at a similar latitude to early Mesopotamian peoples such as the Sumerians, it is reasonable to conclude that the early Mesopotamians themselves were also black, since they would have experienced similar amounts of UV rays.
Genetic data, combined with history, also implies a black origin of Mesopotamians. According to Heather L. Norton and Rick A. Kittles in their study "Genetic Evidence for the Convergent Evolution of Light Skin in Europeans and East Asians":
The frequency of the SLC24A5 111*A allele outside of Europe is largely accounted for by high frequencies in geographically proximate populations in northern Africa, the Middle East, and Pakistan (ranging from 62% to 100%).

The virtual absence of MATP 374*G–derived allele in the sub-Saharan African populations that we examined in the CEPH-Diversity Panel is consistent with the origin of this mutation outside of Africa after the divergence of modern Asians and Europeans. In contrast, the SLC24A5 111*A–derived allele is found at low frequencies in several sub-Saharan populations including the West African Mandenka and Yoruba, the Southern African San , and SouthWest Bantu. The relatively high frequencies of the derived allele in Central Asian, Middle Eastern, and North Africa seem likely to be due to gene flow with European populations.
When did this particular allele, originating in Europe but now so widespread in Southwest Asia, first appear?
What this means is that the Southwest Asians of today are olive-skinned because they have inherited a European gene that appeared no earlier than 12,000 years ago, and perhaps as recently as 5,300 years ago, well after civilization was first established in Mesopotamia and adjacent regions. For this gene to have become so widespread in Southwest Asia today, there must have been a large influx of Europeans into the region within the last 12,000 years, maybe even within the last 5,300 years.
The earliest movement of Europeans into Southwest Asia that I can think of is the Indo-European expansion, mapped here:
Red represents areas settled by Indo-Europeans up to 2500 BC, and orange the area settled by Indo-Europeans up to 1000 BC. As you can see, while we do have an Indo-European presence in northern Anatolia before 2500 BC, it isn't until 2500-1000 BC that the Indo-European presence in Southwest Asia becomes significant. Assuming the spread of Indo-European languages involved major population movements, it appears that it wasn't until well after Southwest Asian civilization had been established that large numbers of light-skinned people were in the area.
Before these white migrations, the inhabitants of Mesopotamia were probably black or at least very dark-skinned. Therefore, the first civilizations in the Near East can be considered to be black civilizations.